Let me take this time to invite all of you to AngelOfThyNight Radio! I know that some of you have waited over a month for this so were going to give you "Dark Holiday" the last episode of 2011 this year. We hope to reach as many of you as possible as will be hosting LIVE calls, chatroom and guest cams. We will be hosting from our sky cam comedy, entertainment, music, 2012 blotter, news paranormal and much more. Hell you might even get to see Lord Claus if your nice lol. We invite you to watch as well as listen to the show lets make this an unforgettable "Dark Holiday"!
Here at AngelOfThyNight and Nightfall Radio we make our own rules! Attached is our poster we look forward to your attendance. We also thank you for all your support and love and wish everyone a very Happy Holiday. Lets party into a whole new frequency!
Warning: AngelOfThyNight Radio is an extreme boldly spoken type of show you must be 18 and over to tune in.
Where:
http://www.stickam.com/AngelOfThyNight
When: Friday Dec.30th 2011
Time: 7pm pst 10pm est
Call The Show At Skype At: AngelOfThyNight or 1-702-442-0903 ext. 188 If Lines Are Not Busy
http://www.paranormalghostsociety.org/AskLordRick.htm
Lord Rick
Talk Show Host
LIVE & Raw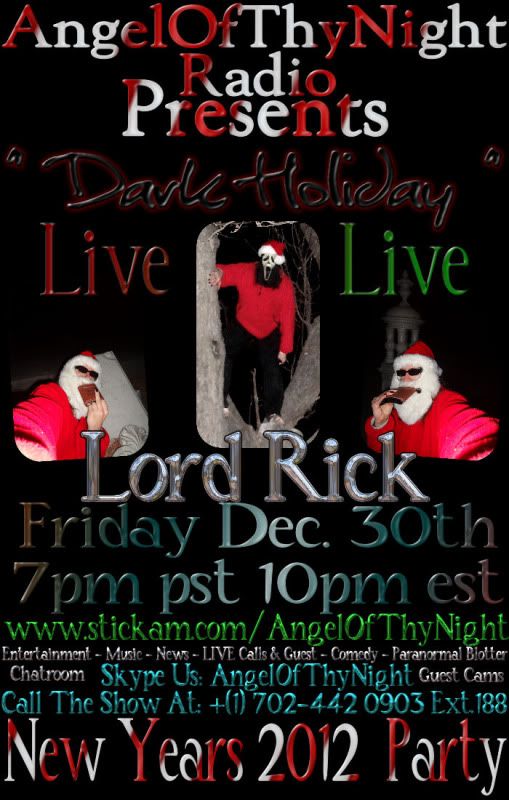 _________________


Love is like a ghost sometimes you cannot see it but it is There