It is good to be back Fridays nights show was a great episode despite the haters who came into make clowns out of themselves. We had a solid 3 hours of paranormal radio and a solid 3 hours of raw comedy. Sadly LV archiving of video feed and audio are not working. I did however record the show directly in our studio Friday night accept video so if you did not see the LIVE footage its lost forever in Friday nights one of a kind shocker.
I do not host shows often that is what makes our show more special then anything we do its because you only get the shows on scheduled dates. Were in season 7 now but the amount of shows we do will lighten up however will also get better for example were going to install a ceiling cam......and now we combine AngelOfThyNight Radio with Nightfall Radio.
Here is what happened on Friday nights show highlights.....video footage etc:
Episode 62 Season 7 "Lord Rick's Valentines Bash" 6 Hours: Spirit Mountain Blotter, Mojave Desert Expedition, Valentines Craigslist Humor, Hollow Earth, Valentines Day Massacre, Fights, Nevada's Mine Proposal, Piercing's, Beer Battered Shrimp, The Haiti Tragedy, Free Balloon Movement, Superbowl Blotter, Death By Association, Lord Rick's Sailboat, Alien Symbols In Grapevine Canyon, Pot Judge, Lord Rick In His Own Avatar Movie, How To Fight Bears, Adventures At The GE, 4th Kind, Raw Vday Jokes, Dreamscape, Horror Movie Reviews, The New Official Saint Valentine, Valentine Disasters, Lots Of Darkwave Music usual headbanging and so much more. What Occurred On Video: Lord Rick's Raindance, Cupcake Face Explosion, Lord Rick's Cursed Mask Yes I Even Wear It During The Show
I am not sure when I will host my next show could be 2 weeks might not be for two months. Its not because I do not enjoy doing radio its because now all we ever get are either haters or drama freaks. Not only that but most of you seem to think you can watch or listen to the rebroadcast and their is NONE. If you do not see or listen to the show live then it gets lost in history. I do however record from our studio the show live then eventually I put them on disc distributing for sale or I give them out for prizes to some of our better members of our forums as presents. I do not record the videos good thing I don't because I am usually lit like a xmas tree in the summer lol.
My gf watched the entire show she peed herself when I smashed the cupcake then started doing the raindance lol. But anyway's our next show should occur in 2 to 3 weeks so state tuned nobody shows to this one I am done I put allot of work into our show weeks worth of worth. I also need two co host and soon will be set up to take incoming phone calls where you can call in and ask me a question or start up a topic etc.
AngelOfThyNight Radio is held LIVE right here from our studio in Las Vegas always free to listen always free to watch and always free to come in to chat. It was one of my better shows considering I took a 6 week vacation between our seasons. I do hope to make 2010 a good year in radio but like I said if people do not come on out then their is no point of me showing up LIVE on camera. peace
Lord Rick
Talk Show Host
PS Attached Is A few Photos From Friday's Show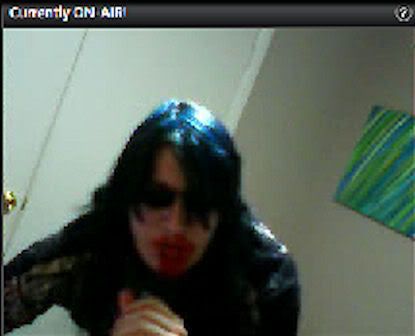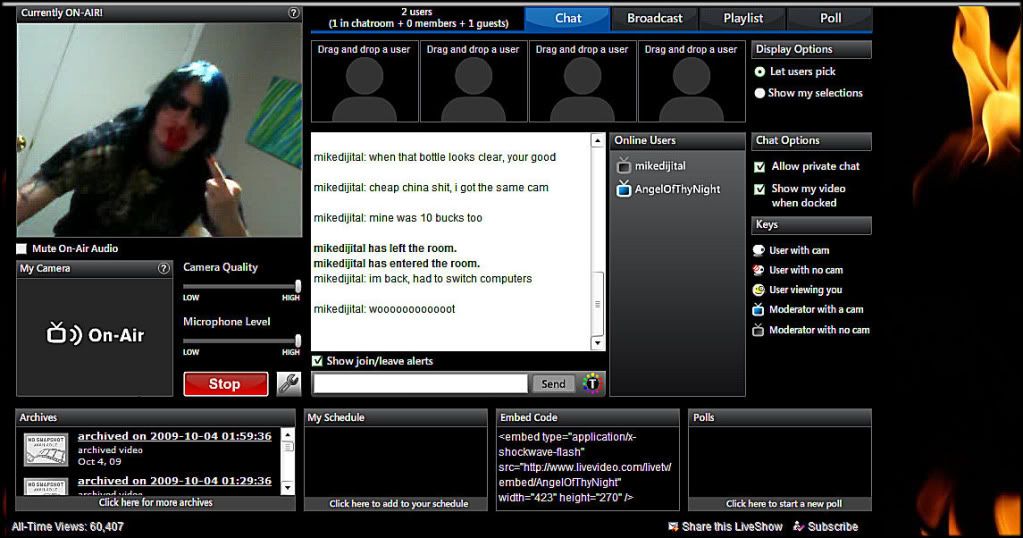 [img]
http://i725.photobucket.com/albums/ww25 ... y20102.jpg
[/img]

_________________


Love is like a ghost sometimes you cannot see it but it is There